A professional, qualified and registered workforce with the skills, experience and competencies to do the job improves business performance along with staff and member retention.
Why should you employ a PD:Verified Professional?
Our members have registered on PD:Verified under one or more of the following categories:
Tutor
Assessor
Internal Quality Assurer
External Quality Assurer
Each category is underpinned by qualifications that meet the UK occupational standards and a Code of Conduct.
Members must complete 10 hours of continuing professional development (CPD) each year ensuring that they are keeping up to date with current practice and to maintain their membership.
Whether you are planning to expand internationally or recruit new team members at home, make PD:Verified your first port of call.
Sector, skills and discipline 
The register enables you to search for members by their skill, discipline and sector to help you find the expertise you need, and we have ensured that their faculty skills are evidenced by a recognised certificate.  Given the wide range of sectors our members may come from we leave it to you as the industry expert to verify the disciplines they have listed on their profile.
Post your vacancy
One of the principal functions of this register is to enable our members to make connections and enhance their career choices. As an employer, you have access through PD:Verified to a growing database of potential team members and have the opportunity to connect directly with those suiting your requirements by advertising your available positions through us. For a nominal fee of £25+VAT, you can send us your advert and we will post it to our members.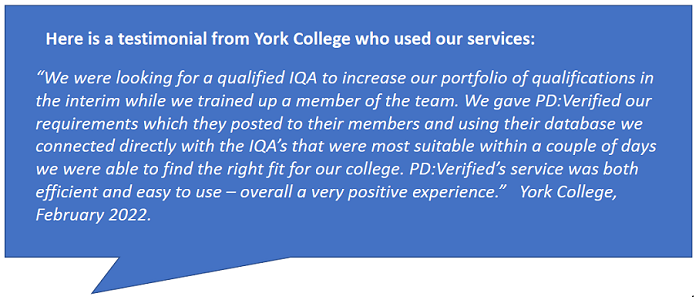 Do you deliver our entry qualifications?
Are you a training provider approved to deliver tutor, assessor and quality assurance qualifications.  If so, one of the two options below may be of interest to you and we would be happy to discuss them with you further.
OPTION 1: Become a PD:Verified Partner
Embed the PD:Verified membership fee within your qualification at a special discounted rate as a benefit for learners successfully achieving your tutor, assessor and quality assurer qualifications.
Benefits and requirements for PD:Verified Partners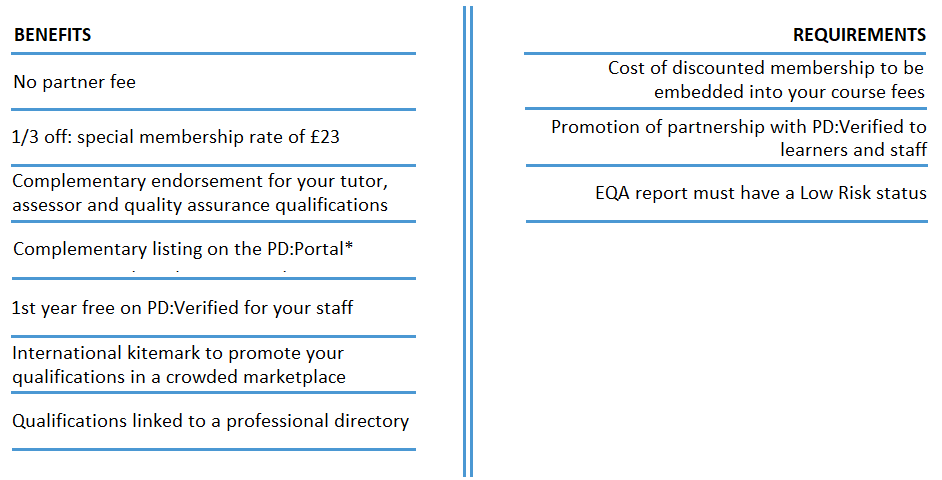 OPTION 2: Become a PD:Verified Supporter
Gain an Accredited endorsement to receive a discount membership code for your graduates giving you an immediate unique selling point in a crowded market.
Benefits and requirements for PD:Verified Supporters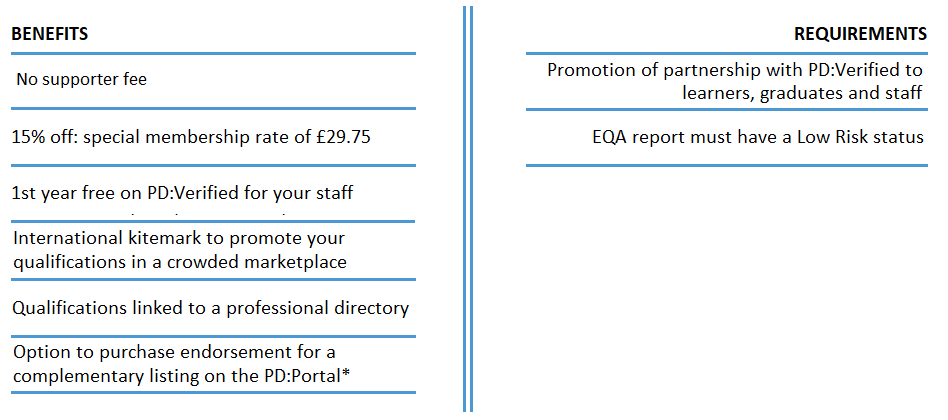 Whichever option you are interested in, please either use the button below to apply, or complete our contact form to arrange a call back to discuss the benefits and requirements with you further. Partners and Supporters operate under specific terms and conditions which can be found here.
* The PD:Portal is our online platform where our approved providers can promote themselves and their endorsed training.